When Lehigh senior Jun-Lucas Pritsker attended an LTS email phishing workshop, he didn't realize it was an event that would ultimately change his career path.
From workshop to work experience
A computer science and engineering major, Jun-Lucas (AKA Jun) worked at the LTS Help Desk for several years, answering a broad range of computing and library questions. In early fall of 2017 his supervisor Andrew Januszak suggested he attend a phishing workshop offered by LTS Chief Information Security Officer Keith Hartranft. "The seminar was really eye-opening," Jun recalled. "I had no idea how much LTS was doing -- they went into depth and showed us security tools and cool stuff that they do." Intrigued, Jun wanted to learn more. "My supervisor Andy introduced me to Jim Vincent [LTS Senior Information Security Analyst]. I'd sat next to him at the workshop! Jim showed me what he does, we talked about my background and goals, and he offered me an internship on the security team."
A mentor makes the difference
Jim Vincent, a security specialist with over twelve years of experience in government and industry, is also an experienced mentor. He supervised Jun. "I wanted Jun to learn what it is like out there in the trenches," Jim states. "The goal was to offer a wide a range of security experience to help him find a niche within security. He is getting experience that a kid out of college for two years would not get exposed to, and his resume has blossomed."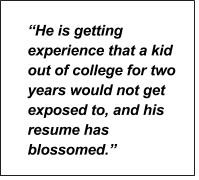 As part of the internship Jun gained experience with forensics, firewalling, networking, vulnerability scanning, pen (penetration) testing, scripting/programming, baseline analysis, and report-writing. He got hands-on experience in deploying security devices. In one project, he set up a sandbox -- an isolated server where malware can be triggered safely. In the sandbox, an analyst can analyze malware and establish countermeasures to protect against it.
Learning through immersion
As an intern Jun works twenty hours a week in the systems engineering team office (while carrying 17 credit course load!). Embedded in the "cube farm," he interacts daily with the LTS network and security engineers. "Everyone has taught me something," Jun remarks. "The first few months I was totally clueless about what various hosts were for, the network topologies. I asked a bunch of questions and got familiar with everything." Jun notes that he is also able to apply knowledge gained from Lehigh coursework on network security, Linux, and Perl and Python programming. Jim is delighted with Jun's contribution to the team. "I've thrown him in with projects with just a general idea of what to do. He's done this and more. Everything I give him, he hits a home run every time."
A leg up in the security industry
The internship experience has taken Jun's skill set to the next level. "I've always been interested in online security," Jun states. "I did online war games, read articles about security incidents and followed it in the news -- but otherwise I had limited exposure." Jun said he figured he would have to work as an entry level software engineer for a few years before specializing. With his current experience, Jun can be more ambitious and focused in his career plans. "This internship has given me the background to apply for specialized security positions with more stringent experience requirements. I could never have considered this without my experience here."
The future
Jun is continuing as a part of the network security team through his senior year, and he is confident about his prospects for landing a job upon graduation. Meanwhile Jim hopes to hire and mentor more students. The LTS security team is actively seeking additional interns. "Our students have elevated access to our systems, so we have to be extremely selective. We are looking for a certain technical background and maturity level, but we would love to hire more interns." Jun gives a thumbs up to the whole experience. His advice to fellow students: "Go after your interests, actively try to learn outside of school. I got extremely lucky, I stumbled into this great opportunity and it's prepared me to advance into the career I want right out of school."